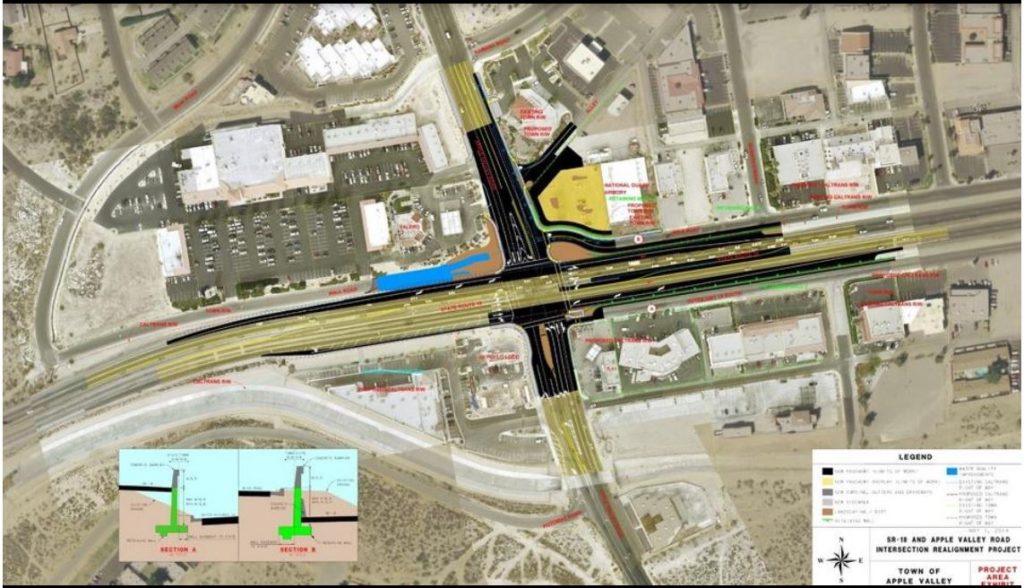 The Town of Apple Valley recently announced they plan to receive a $4.46 MM grant from CTC (California Transportation Commission) towards the $8.92 MM infrastructure project to realign and widen the most congested intersection of the town – Highway 18 & Apple Valley Rd.  These two primary corridors converge at this insufficient and often confusing intersection.  In addition to alleviating gridlock and traffic flow issues, there will be elements included in the design to create greater safety for pedestrians and bicyclists.  Construction is planned for Summer 2019 with completion expected Winter 2020.
This is the medical/professional hub of Apple Valley, home to St Mary's Medical Center and numerous physicians and professional services.  Highway 18 is a primary east-west corridor where local commuters go west to connect to I-15 Freeway and recreational travelers head east to destinations like Big Bear Lake mountain resort town and desert towns.
Apple Valley Road is the primary north-south thoroughfare through the Town of Apple Valley, traveled mostly by local residents between Highway 18 and Bear Valley Road.
The Apple Valley Rd / Highway 18 intersection realignment and widening project is a highly anticipated improvement to the traffic flow of the area.  This is one of the many infrastructure projects planned to improve the ever-growing population of the High Desert region.
To learn more about this project, click here for details from the Town of Apple Valley or click here for an article by the Daily Press.