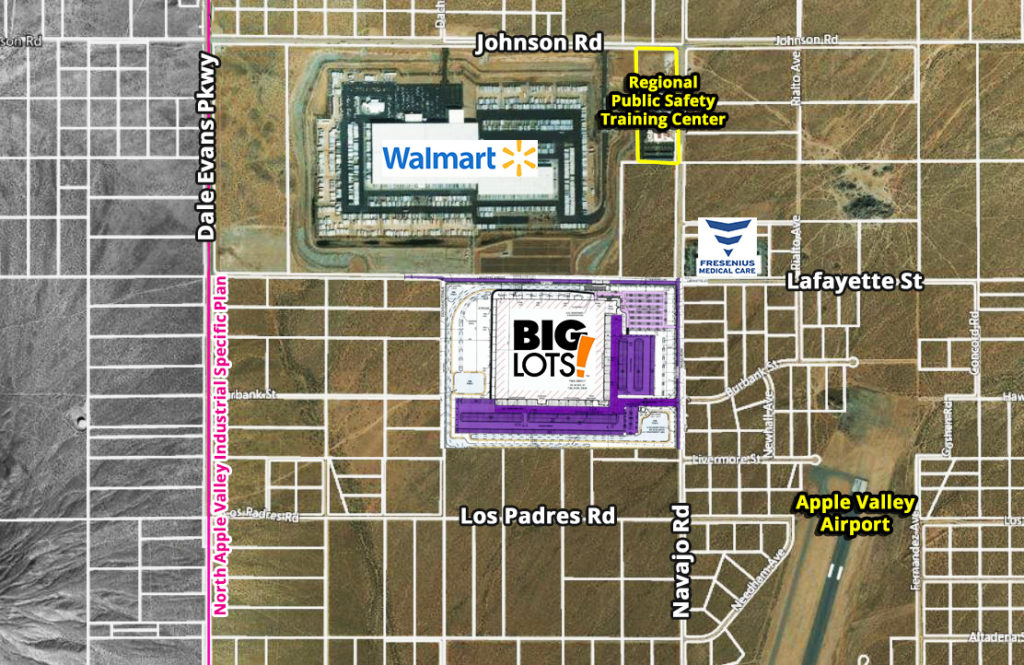 It is confirmed! The largest distribution center project in the High Desert has closed on their land purchase.  Big Lots, aka 'Jupiter Project', will soon begin moving dirt in preparation for their ±1.4 Million Square Foot distribution center. An estimated 400-500 jobs will be created for the region through this development.
The ±106 Acre site is located at the Southwest corner of Navajo Rd & Lafeyette St, within the North Apple Valley Industrial Specific Plan – a swath of ±6,221 Acres designated to facilitate industrial and commercial development for the Town of Apple Valley and the region as a whole.  Many large land investors have acquired hundreds of acres in anticipation of future growth.
Providing access to Interstate 15, this hidden gem is already home to Walmart's 1.3 MM Sq. Ft. distribution center, Fresenius Medical Care distribution center, the Regional Public Safety Training Center and Atlas Van Lines.  Additionally, Ameritex has plans to construct a manufacturing plant in the near future.
As vacant land in the Inland Empire and LA regions becomes increasingly scarce, the abundant land in the High Desert offers great potential for companies to establish themselves with room for expansion. The High Desert region is bisected by Interstate 15 one of the few East-West entry points to California. ±90 miles from the Ports of Los Angeles and ±190 miles from Las Vegas, the region is a central location for many industries.