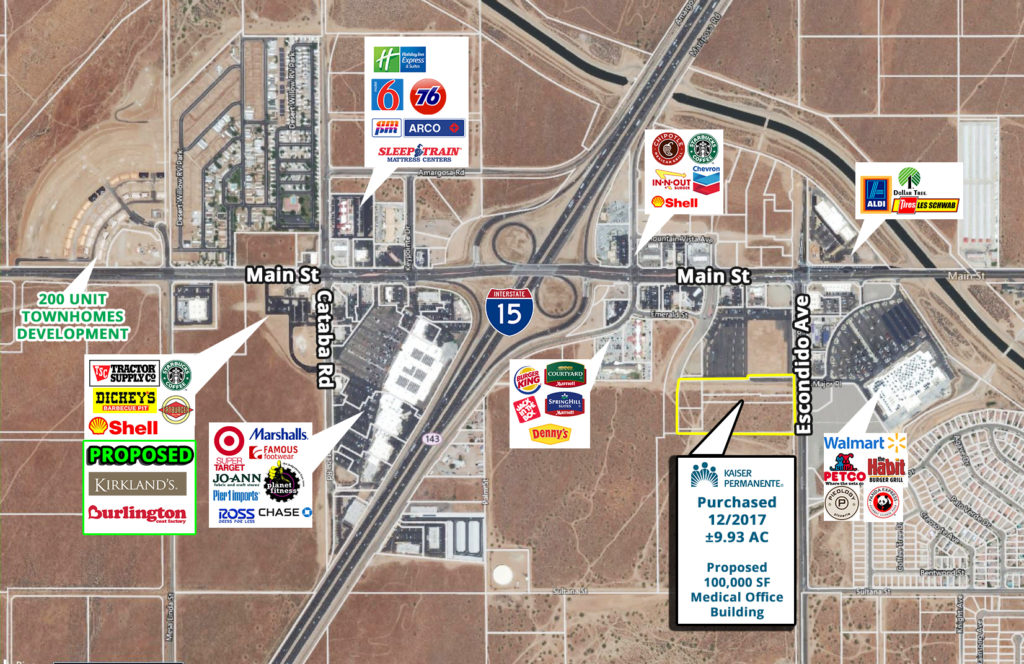 Kaiser Permanente has just purchased a prominent portion of land in the City of Hesperia, southeast of Interstate 15 & Main St on Escondido Avenue.  This recent transaction marks the potential expansion for medical services in the High Desert region of Southern California. The deal includes approximately 10 Acres of vacant land that sits west of a retail center anchored by Walmart Super Center. A 100,000 SF medical office building is proposed for the site, potentially filling a significant need for medical resources in the region.
Kaiser Permanente is the largest Managed Care organization in the U.S., operating in 8 states and Washington D.C., they provide health insurance plans, hospitals and regional medical groups to over 11.7 Million members.  They are well established in the High Desert community with facilities in Victorville providing an Urgent Care, Pharmacy, and regional medical center.
The potential expansion of the medical provider is welcomed news.  Since the last economic boom in the early 2000's when populations nearly doubled in the region, medical services have fallen short, unable to keep up with the demand of the influx of residents.  Currently, there are three hospitals in the Victor Valley – St Mary's Medical Center in Apple Valley, Victor Valley Global Medical Center in Victorville and Desert Valley Hospital in Victorville.  This new potential Hesperia medical office location could help fill the ever growing gap in medical services.