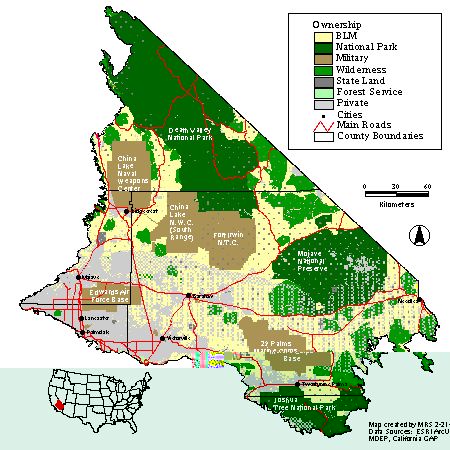 Several residential developers, mining and solar companies are actively looking to acquiring mitigation property in hopes of having their projects ready for development once the market recovers.  The Fremont Kraemer Desert Wildlife Management Area (DWMA) is one of the most popular habitat preservation in San Bernardino County.  This extremely rural area is located north of Hwy 58, between Hwy 395 and the City of Barstow.  The government currently owns about 80% of the protected land that has been set aside for the preservation of the Desert Tortoise, Mojave Ground Squirrel and many other protected species.  Currently there is over 55,000 acres of privately owned land available with hundreds of acres being sold daily to meet developers' mitigation requirements with the Department of Fish and Game.
Over the last 5 years Land Investors have seen a need for mitigation requirements and have slowly assembled several thousand acres in efforts to simplify  developer/end user mitigation requirements while turning a profit.  This process is saving substantial time and money by getting Habitat Density Approvals ahead of time.
Residential developers are not the only ones interested in acquiring mitigation land.  The massive influx of alternative energy companies seeking projects throughout San Bernardino County has also created a requirement for additional mitigation land.  Most companies are required to purchase a 3 to 1 ratio of mitigation land for every acre they develop.  The average solar project requires about 2,000 acres for development which would equate to roughly 6,000 acres of mitigation land.  With the growing demand for mitigation property the privately owned parcels are rapidly being turned over to the Department of Fish and Game in exchange for approvals on the developer's project.
This increase in demand for mitigation property is rapidly closing the gap of privately owned parcels within the DWMA and limiting the price of what owners could sell their property for.  Many individuals have had this property in their family for over 30 years and have seen very little increase in value.  Current comps in this area show prices of $200 to $350 per acre, setting the standard value for the remaining privately owned parcels.
For more information, contact James Langley of Kursch Group at 760.403.6510 or [email protected]