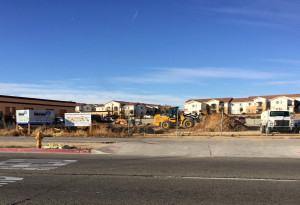 The new Earle/Banko Medical Building has broken ground for construction.  The project is located on the west side of Hesperia Rd, just north of Nisqualli Rd in Victorville.  The 6,000 square foot building will accommodate two tenants: a Family Practice and a Cardiology office, adding to the medical-centric area.
In the fall of 2014, Kursch Group's own Jeremy Schmidt facilitated the Land Sale of the ±0.74 Acre Parcel in preparation for the medical development.
For more information about this transaction contact Kursch Group at 760.983.2383.