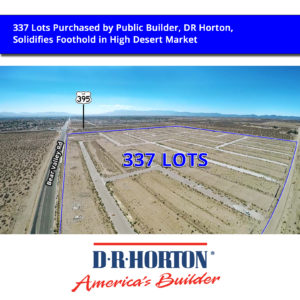 D.R. Horton just closed on a purchase of 337 lots in Victorville, CA. The partially improved subdivision sits southwest of the prominent intersection of Highway 395 and Bear Valley Road. As the first substantial stake in the High Desert Market this cycle, D.R. Horton has made it clear this tertiary market of Southern California is well positioned for the next wave of growth.
Public builders like D.R. Horton are a key indicator of market strength in a region. Their investment is thoroughly researched, well timed and precisely calculated.  Their research includes substantial historical data trends, current market analysis and  future projections.  When a Public Builder purchases land to develop, progress in the region is nearly eminent.  Since Public Builders develop homes, inevitably this creates population growth which warrants the need for more retail, services and infrastructure improvements.  As Jeremy Schmidt, partner at Kursch Group, says, 'if one Public Builder takes hold, more will follow'.
The High Desert region sits at the top of the Cajon Pass, bisected by Interstate 15, and includes the cities of Victorville, Hesperia, Barstow, Apple Valley, Adelanto and surrounding unincorporated areas of San Bernardino County. Regional population exceeds 443,000 – nearly a half million people – who live, work, eat, and play here.  Affordability is a leading factor attracting new residents to the region. Proximity is another factor, Los Angeles is approximately 70 miles southwest and Las Vegas is approx. 150 mile northeast.  Manufacturing, logistics, medical education and retail are dominant employment sectors for the market.
Public Builders are a reliable indicator of market viability and D.R. Horton has strengthened their foothold in the High Desert Market.