Check this out, on September 12 the Victorville Planning Commision approved an approximately 1,500 SF take out Restaurant on the corner of Mojave St and Village Dr. Then on September 29 a ceremony was held to dedicate the completion of improvements to John Glenn Road was held (we will revisit this in just a bit).  Plus we have all sorts of business coming in to Hesperia and Victorville, like new restaurants, workout & training facilities, trade companies, construction, service amenities and so much more! Every day I am just baffled at how fast our community is growing.
So let's take a step back  and check out what we have planned for this very exciting new take out restaurant that should be breaking ground very soon. The Site Plan was originally submitted in 2017 but was denied due to few site issues. But this applicant was determined and was able to re submit in 2018 and by golly gee it was approved (yes, I just used the phrase by golly gee). The building is on the smaller side, but will help elevate the surroundings tremendously with only a few minor building material substitutions.
All in all, this  take out restaurant is going to offer significant improvements to the city and the street itself, should be exciting to see how it all turns out. Stay tuned for updates.
And now let's look at John Glenn Rd in Apple Valley, who out there remembers what an obstacle it was to make your way down that street?! Well those obstacle days are far and long behind us (at least when we are talking about John Glenn Rd). "The John Glenn Road improvements were completed through a public private partnership between the Town of Apple Valley and the Village Property and Business Improvement District (PBID).  The nearly $500,000 project included rebuilding the street from Powhatan Road to Outer Highway 18, and the installation of curb, gutter and sidewalk along the east side of the road. The completed project gives commuters, residents, and local business owners improved access to Apple Valley's historic downtown district." (High Desert Daily). The road is just absolutely beautiful now, and has added to the value of Tony's listing, +1.95 Acres of service commercial land on John Glenn Rd and Powhatan Rd.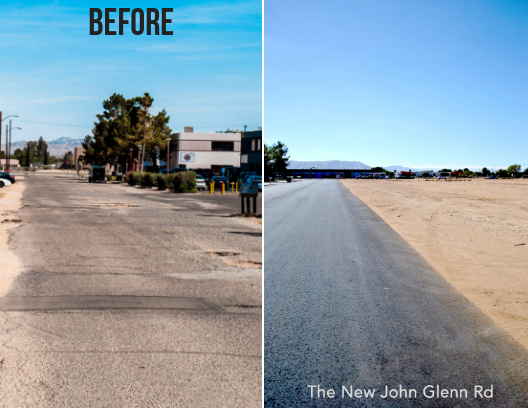 Drive by, check it out. The site has all utilities nearby and has several supporting industrial and service related uses in the immediate area.
If your headed eastbound on Hwy 18 turn right on Navajo Rd then take a left onto Powhatan Rd. Go east to John Glenn Rd, the subject site is on the left at the corner.
Tony Scafidi
760.983.2598 • [email protected]
BRE #01887228 Corporate BRE #01896143
12180 Ridgecrest Rd, Suite 232, Victorville, CA 92395
760.983.2383 • [email protected] • KurschGroup.com